Bachelor's studies
Molecular biology and biotechnology
Do you want to make genetic modifications, cure cancer, change the world?
Come to our bachelor!
Blots, immuno, gel electrophoresis? It doesn't matter that you don't understand it now. We'll take you through everything, but most of all we'll take you straight to the lab. And after the bachelor's degree, you can go straight to practice.
You will learn to work with microscopes. Hands and head. You will be familiar with the laboratory, have acquired habits and an overall overview, which will significantly improve your position in professional life. A huge advantage over "ordinary theorists". What you get excited about in your bachelor's degree, you can build on in your follow-up master's degree.
Here you will find the most modern laboratory technology. You will already be working with CRISPR technology at the bachelor's degree. Technology that really moves the world. CRISPR is a future that will be part of every laboratory and hospital in a few years. You can meet her now!
Practice since bachelor
Of course, we will also give you the theory, but the main thing here is practical teaching.
A small number of students
We are small and closely profiled. We will really pay attention to you.
Experimental bachelor thesis
Each work is unique and really comes from the laboratory.
Are you thinking about studying with us? The live recording is really worth it. You will learn what interesting things you will learn, in which directions the research can lead you during your studies, or what it is like to be on an internship abroad. Are you interested in what our receivers are? Can you establish cooperation with the company while studying? And what is it like to devote yourself fully to science and study, for example, a doctorate?

In that case, there is nothing to wait for.
What can you be?
Molecular biologist, biochemist or microbiologist. Member of any scientific research institute or specialized clinical laboratory. You can work in agriculture, pharmacy, food, breeding or care for the environment.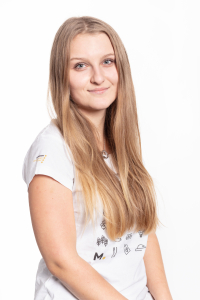 Lenka Svobodová
"I've always wanted to be a member of a research team that can discover something that will change the world and take science a step further. Now I'm one foot part of it. My dream came true, in which I want to continue and just improve. Ideally, during your studies, to gain practice and one day you should be one of the capacities of Mr. Vojtěch Adam."
Lenka is a student and ambassador in the field of Molecular Biology and Biotechnology. His research deals with the treatment of cancer.
Do you have any questions about studying?
Are you interested in what life is like at MENDELU? Are exams and studies challenging? Or if we really teach you something, let you go to the lab and you will have enough practice for your future job?
In that case, Lenča is fully available to you. You can write it here @lenny.cka, or here:
You will establish an interesting cooperation and you will know how it works in practice
Oncology, veterinary medicine or phytosanitary? Experience Molecular Biology in practice. During your studies you will have the opportunity to visit companies such as BioVendor, TestLine or GeneProof. You will establish cooperation and thus gain indispensable contacts for your future job.



What will you learn from us?
During the bachelor's study we will give you practical knowledge of genetic modifications of organisms. We focus on applied genetics and molecular biology of microorganisms, plants and animals that you can use in agriculture, food, healthcare or environmental care. We pay great attention to the practical control of the latest laboratory techniques and skills, including modern methods of studying and editing the genome.
Practical information:
The study normally lasts three years and ends with a state final examination.
The final state examination consists of the defense of the thesis and an examination in three subjects.
Two subjects are compulsory – Genetics and Molecular Biology
One compulsory elective course – Plant Anatomy and Physiology, Animal Anatomy and Physiology, Biophysics, Biochemistry and Microbiology
What items await you?
Study plans consist of compulsory and optional subjects that correspond to basic theoretical disciplines.
To give you an idea, a small sample:
Methods of chemical analysis
Methods of molecular biology of proteins
Methods of molecular genetics
Microbiology
Microscopic and imaging methods
Cytology
Evolution and genetic diversity
RNA technology
Basics of genome editing