Laboratory of Tumour Biology and Immunology
Laboratory of Tumour Biology and Immunology focuses on research and development of anticancer drugs on the basis of ferritin nanoparticles. This involves the use of carriers of biologically active substances with antitumor effect, which are able to induce an effective immune response leading to tumour regression. Furthermore, our laboratory deals with the antitumor effects of metallic, magnetic and carbon nanomaterials. Among other things, the research is focused on the study of molecular mechanisms that are responsible for the resistance of tumour cells to commonly used drugs.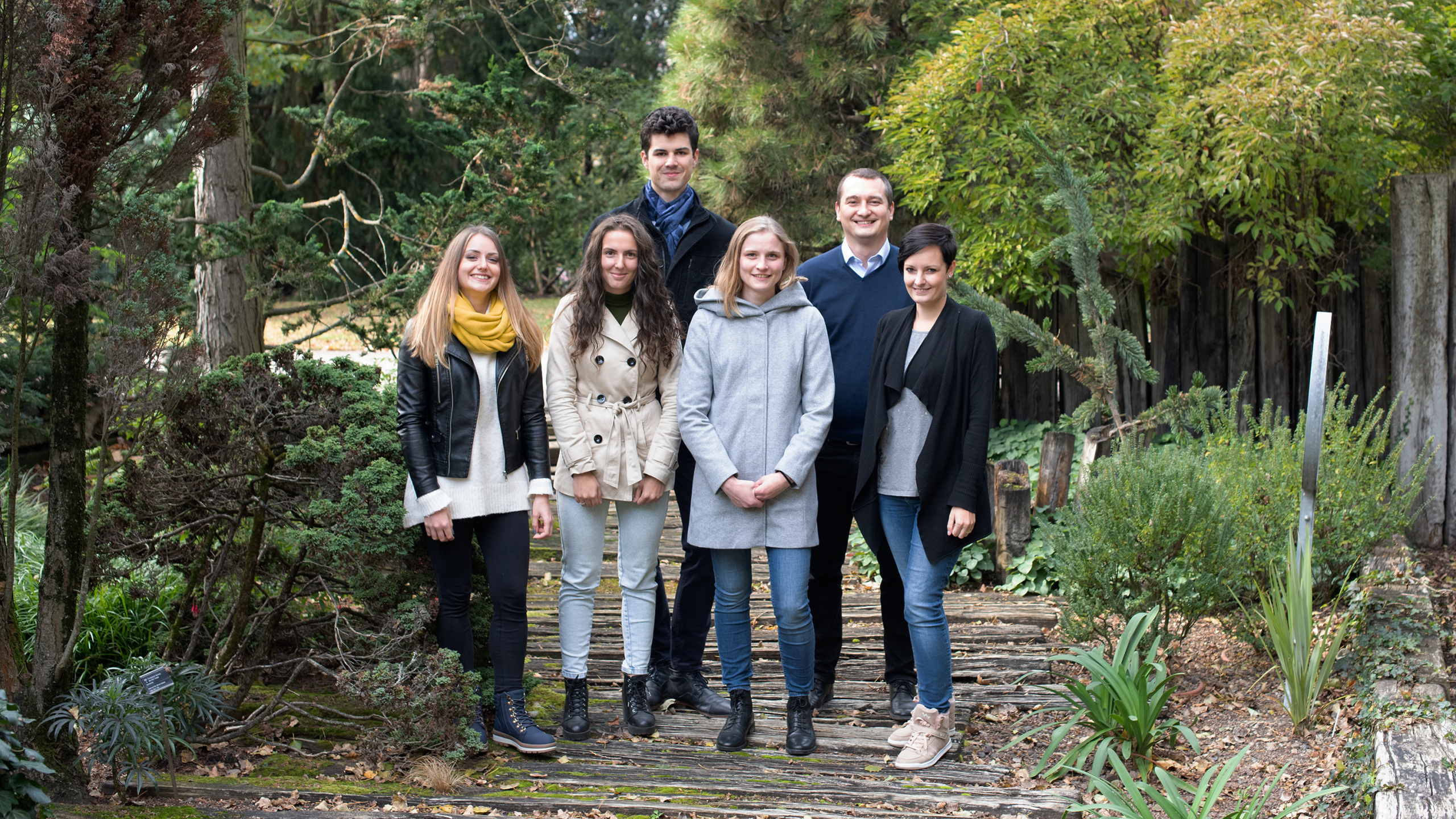 Main research focus of the laboratory:
Study of biological properties of ferritin nanoparticles with respect to the active substance and testing of their antitumor activity on selected tumour cell lines of human and mouse origin in vitro and on mouse models in vivo.
Study of the interaction of the immune system with the tumour and the mechanisms of antitumor immunity with respect to the influence on different cell populations of the immune system.
Study of molecular mechanisms that lead to resistance of tumour cells with a focus on the function of ABC transporters.
Study of the biology of cancer stem cells and their resistance to the effects of anticancer drugs.
Study of biological properties of metal, magnetic and carbon nanoparticles and their antitumor effects.
---
Team members
Ing. Hana Michálková, Ph.D. (roz. Buchtelová)
Bc. Františka Suchá
Bc. Martina Súkupová
Milan Křížek
Marie Šulová
Topics of Ph.D. theses
Free topic – if interested, contact the head of the research group
Publications
MERLOS, M. A. R.; MICHALKOVA, H.; STRMISKA, V.; CASAR, B.; CRESPO, P.; DE LOS RIOS, V.; CASAL, J. I.; HADDAD, H.; GURAN, R.; ECKSCHLAGER, T.; POKORNA, P.; HEGER, Z.; ADAM, V. Metallothionein-3 promotes cisplatin chemoresistance remodelling in neuroblastoma. Sci. Rep., 2021, vol. 11. p. 1-14. ISSN 2045-2322. IF 4.379
MERLOS, M. A. R.; CASAR, B.; MICHALKOVA, H.; JIMENEZ JIMENEZ, A. M.; HEGER, Z.; ADAM, V. Extending the applicability of In ovo and ex ovo chicken chorioallantoic membrane assays to study cytostatic activity in neuroblastoma cells. Front. Oncol., 2021, vol. 11. p. 1-10. ISSN 2234-943X. IF 6.244
RESSNEROVA, A.; NOVOTNY, F.; MICHALKOVA, H.; PUMERA, M.; ADAM, V.; HEGER, Z. Efficient protein transfection by swarms of chemically powered plasmonic virus-sized nanorobots. ACS Nano, 2021, vol. 15. p. 12899-12910. ISSN 1936-0851. IF 15.881
SKUBALOVA, Z.; REX, S.; SUKUPOVA, M.; ZAHALKA, M.; SKLADAL, P.; PRIBYL, J.; MICHALKOVA, H.; WEERASEKERA, A.; ADAM, V.; HEGER, Z. Passive diffusion vs. active pH-dependent encapsulation of tyrosine kinase inhibitors vandetanib and lenvatinib into folate-targeted ferritin delivery system. Int. J. Nanomed., 2021, vol. 16. p. 1-14. ISSN 1178-2013. IF 6.400
STEPANKOVA, H.; SWIATKOWSKI, M.; KRUSZYNSKI, R., .; SVEC, P.; MICHALKOVA, H.; SMOLIKOVA, V.; RIDOSKOVA, A.; SPLICHAL, Z.; MICHALEK, P.; RICHTERA, L.; KOPEL, P.; ADAM, V.; HEGER, Z.; REX, S. The anti-proliferative activity of coordination compound-based ZnO nanoparticles as a promising agent against triple negative breast cancer cells. Int. J. Nanomed., 2021, vol. 2021. p. 4431-4449. ISSN 1178-2013. IF 6.400
Tesarova, B.; Dostalova, S.; Smidova, V.; Goliasova, Z.; Skubalova, Z.; Michalkova, H.; Hynek, D.; Michalek, P.; Polanska, H.; Vaculovicova, M.; Hacek, J.; Eckschlager, T.; Stiborova, M.; Pires, A. S.; Neves, A. R. M.; Abrantes, A. M.; Rodrigues, T.; Matafome, P.; Botelho, M. F.; Teixeira, P.; Mendes, F.; Heger, Z.; Surface-PASylation of ferritin to form stealth nanovehicles enhances in vivo therapeutic performance of encapsulated ellipticine. Appl. Mater. Today, 2020, 18, art. no. 100501. DOI: 10.1016/j.apmt.2019.100501.

Michalkova, H.; Skubalova, Z.; Sopha, H.; Strmiska, V.; Tesarova, B.; Dostalova, S.; Svec, P.; Hromadko, L.; Motola, M.; Macak, J. M.; Adam, V.; Heger, Z.; Complex cytotoxicity mechanism of bundles formed from self-organised 1-D anodic TiO2 nanotubes layers. J. Hazard. Mater. 2020, 388, art. no. 122054. DOI: 10.1016/j.jhazmat.2020.122054.

Moulick, A.; Heger, Z.; Milosavljevic, V.; Richtera, L.; Barroso-Flores, J.; Rodrigo, M. A. M.; Buchtelova, H.; Podgajny, R.; Hynek, D.; Kopel, P.; Adam, V.; Real-time visualization of cell membrane damage using gadolinium-Schiff base complex-doped quantum dots. ACS Appl. Mater. Interfaces, 2018, 10, 35859-35868. DOI: 10.1021/acsami.8b15868.

Buchtelova, H.; Strmiska, V.; Skubalova, Z.; Dostalova, S.; Michalek, P.; Krizkova, S.; Hynek, D.; Kalina, L.; Richtera, L.; Moulick, A.; Adam, V.; Heger, Z.; Improving cytocompatibility of CdTe quantum dots by Schiff-base-coordinated lanthanides surface doping. J. Nanobiotechnol. 2018, 16, art. no. 43. DOI: 10.1186/s12951-018-0369-7.

Skubalova, Z.; Michalkova, H.; Michalek, P.; Strmiska, V.; Guran, R.; Merlos, M. A. R.; Castkova, K.; Hynek, D.; Pekarik, V.; Zitka, O.; Adam, V.; Heger, Z.; Prevalent anatase crystalline phase increases the cytotoxicity of biphasic titanium dioxide nanoparticles in mammalian cells. Colloid Surf. B-Biointerfaces 2019, 182, 1-10. DOI: 10.1016/j.colsurfb.2019.110391 . IF = 4.389
Buchtelova, H.; Skubalova, Z.; Strmiska, V.; Michalek, P.; Kociova, S.; Smerkova, K.; Kruszynski,; Bienko,; Kaj,; Lewinska,; Bienko,; Malik-Gajewska,; Milosavljevic,; Kopel,; Heger,; Adam, V.; Synthesis and structural characterization of antimicrobial binuclear copper (II) coordination compounds bridged by hydroxy- and/or thiodipropionic acid. J. Inorg. Biochem. 2019, 191, 8-20. DOI: 10.1016/j.jinorgbio.2018.10.011. IF = 3.212
Michalkova, H.; Strmiska, V.; Kudr, J.; Skubalova, Z.; Tesarova, B.; Svec, P.; Richtera, L.; Zitka, O.; Adam, V.; Heger, Z.; Tuning the surface coating of IONs towards efficient sonochemical tethering and sustained liberation of topoisomerase II poisons. Int. J. Nanomed. 2019, 14, 7609. DOI: 10.2147/IJN.S208810. IF = 5.115
Studenovsky, M.; Sivak, L.; Sedlacek, O.; Konefal, R.; Horkova, V.; Etrych, T.; Kovar, M.; Rihova, B.; Sirova, M.; Polymer nitric oxide donors potentiate the treatment of experimental solid tumours by increasing drug accumulation in the tumour tissue. Journal of Controlled Release, 2018, 269: 214-224. DOI: 10.1016/j.jconrel.2017.11.017. IF = 7.901
Kynicky, J.; Milosavljevic, V.; Jelinkova, P.; Haddad, Y.; Merlos, M. A. R.; Buchtelova, H.; Bytesnikova, Z.; Brtnicky, M.; Richtera, L.; Kopel, P.; Adam, V.; Europium and terbium Schiff base peptide complexes as potential antimicrobial agents against Salmonella typhimurium and Pseudomonas aeruginosa. Chem. Pap. 2018, 72, 1437–1449. DOI: 10.1007/s11696-018-0400-3. IF = 1.246
Milosavljevic, V.; Haddad, Y.; Moulick, A.; Buchtelova, H.; Guran, R.; Pospisil, T.; Stokowa-So; Heger, Z.; Richtera, L.; Kopel, P.; Adam, V.; Functional analysis of novicidin peptide: Coordinated delivery system for zinc via Schiff base ligand. Bioconjugate Chem. 2018, 29, 2954. DOI: 10.1021/acs.bioconjchem.8b00370. IF = 4.349
Buchtelova, H.; Strmiska, V.; Skubalova, Z.; Dostalova, S.; Michalek, P.; Krizkova, S.; Hynek, D.; Kalina, L.; Richtera, L.; Moulick, A.; Adam, V.; Heger, Z.; Improving cytocompatibility of CdTe quantum dots by Schiff-base-coordinated lanthanides surface doping. J. Nanobiotechnol. 2018, 16, 1-14. DOI: 10.1186/s12951-018-0369-7. IF = 5.345
Jelinkova, P.; Splichal, Z.; Jimenez Jimenez, A. M.; Haddad, Y.; Mazumdar, A.; Sur, V. P.; Milosavljevic, V.; Kopel, P.; Buchtelova, H.; Guran, R.; Zitka, O.; Richtera, L.; Hegerova, D.; Heger, Z.; Moulick, A.; Adam, V.; Novel vancomycin–peptide conjugate as potent antibacterial agent against vancomycin-resistant Staphylococcus aureus. Infect. Drug Resistance 2018, 2018, 1807. DOI: 10.2147/IDR.S160975. IF = 1.354
Sivak, L.; Subr, V.; Tomala, J.; Rihova, B.; Strohalm, J.; Etrych, T.; Kovar, M.; Overcoming multidrug resistance via simultaneous delivery of cytostatic drug and P-glycoprotein inhibitor to cancer cells by HPMA copolymer conjugate. Biomaterials, 2017, 115: 65-80. DOI: 10.1016/j.biomaterials.2016.11.013. IF = 10.317
Braunova, A.; Kostka, L.; Sivak, L.; Cuchalova, L.; Hvezdova, Z.; Laga, R.; Filippov, S.; Cernoch, P.; Pechar, M.; Janouskova, O.; Sirova, M.; Etrych, T.; Tumor-targeted micelle-forming block copolymers for overcoming of multidrug resistence. Journal of Controlled Release, 2017, 245: 41-51. DOI: 10.1016/j.jconrel.2016.11.020. IF = 7.877
Milosavljevic, V.; Jelinkova, P.; J; Moulick, A.; Haddad, Y.; Buchtelova, H.; Krizkova, S.; Heger, Z.; Kalina, L.; Richtera, L.; Kopel, P.; Adam, V.; Alternative synthesis route of biocompatible polyvinylpyrrolidone nanoparticles and their effect on pathogenic microorganisms. Molecular Pharmaceutics 2017, 14, 221-233. DOI: 10.1021/acs.molpharmaceut.6b00807. IF = 4.556
Koziolova, E.; Janouskova, O.; Cuchalova, L.; Hvezdova, Z.; Jan Hrabeta, J.; Eckschlager, T.; Sivak, L.; Ulbrich, K.; Etrych, T.; Subr, V.; Overcoming multidrug resistance in Dox-resistant neuroblastoma cell lines via treatment with HPMA copolymer conjugates containing anthracyclines and P-gp inhibitors. Journal of Controlled Release, 2016, 233: 136-146. DOI: 10.1016/j.jconrel.2016.05.036. IF = 7.786
Subr, V.; Sivak, L.; Koziolova, E.; Braunova, A.; Pechar, M.; Strohalm, J.; Kabešova, M.; Rihova, B.; Ulbrich, K.; Kovar, M.; Synthesis of Poly[N -(2-hydroxypropyl)methacrylamide] conjugates of inhibitors of the ABC transporter that overcome multidrug resistance in doxorubicin-resistant P388 cells in vitro. Biomacromolecules 2014, 15, 8, 3030–3043. DOI: 10.1021/bm500649q. IF = 6.092