Laboratory of electrochemistry
The main aim of this research group is to focused on the sensors and biosensors frabrication for detection and monitoring of biological substances. Moreover our research interest is focused on the methylated DNA by electrochemical impedance spectroscopy. In addition we are able to detect various cancer proteins or markers. We coolaborate with a research group of molecular biology that focuses on platinum cytostatics determination. Another area of interest is electrochemical detection of heavy metals, focusing on environmental protection (detection of heavy metals in waste water).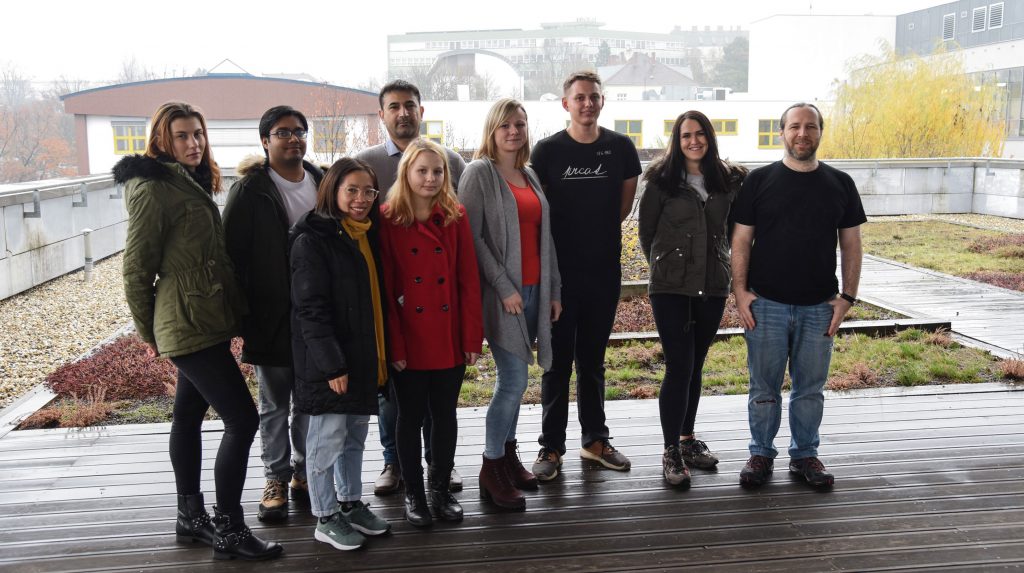 Our research interest
Electrochemical detection of nucleic aicid (cancer biomarkers), study of DNA methylation
Electrochemical detection of proteins and peptides with thiol groups (metallothionein)
Electrochemical detection of metals and semi-conductors (protect of enviromental and platinium cytostatic determination)
Fabrication of sensors and biosensors using of nanomaterials
Measurement and modification of soil electrodes (glassy carbon, gold, boron doped diamond, carbon paste, screen printed) mercury dropped electrode measurement
Nanomaterials characterization
Maping of surface materials by electrochemical scanning microscope
---
RNDr. Lukáš Richtera, Ph.D.
Head – Research group for synthesis and chemical analysis
Assistant Professor
---
Phone: 420 545 133 311
Address: ÚCB AF, Zemědělská 1, 61300 Brno – Building D
Office: BA02N2016
Email:
Researcher ID: N-9991-2014
ORCID: 0000-0002-8288-3999
Scopus ID: 12040049600
---
Team members
MSc. Amirmansoor Ashrafi, Ph.D.
MSc. Atripan Mukherjee, Ph.D.
Ing. Eliška Birgusová
Sanam Garehbaghi, MSc.
MSc. Arezoo Saadati
MSc. Aydan Karakaya
Topics of Ph.D. theses
Electrochemical detection of bacteria using the nanomaterials
Development of microfluidic Lab-on-a-chip exploiting magnetic nanoparticles for biogenic amines
Synthesis of potential antimicrobial peptides and study of bacterial resistance mechanisms and enzymatic activity
Label-free electrochemical aptasensor for detection of cancer biomarker
Publications
ASHRAFI, A.; BYTESNIKOVA, Z.; BAREK, J.; RICHTERA, L.; ADAM, V. A Critical Comparison of Natural Enzymes and Nanozymes in Biosensing and Bioassays. Biosens. Bioelectron., 2021, vol. 192. p. 1-18. ISSN 0956-5663. IF 10.618
ASSERGHINE, A.; ASHRAFI, A.; MUKHERJEE, A.; PETRLAK, F.; HEGER, Z.; SVEC, P.; RICHTERA, L.; NAGY, L.; SOUTO, R. M.; NAGY, G.; ADAM, V. In situ investigation of the cytotoxic and interfacial characteristics of titanium when galvanically coupled with magnesium using scanning electrochemical microscopy. ACS Appl. Mater. Interfaces, 2021, vol. 13. p. 43587-43596. ISSN 1944-8244. IF 9.229
BENES, J.; TODOROVSKA, V.; BUDILOVA, K.; KOVARNIK, J.; PAVELKA, J.; ATANASOSKA, N.; BUMEL, J.; FLORENZANO, A.; MAJEROVICOVA, T.; VONDROVSKY, V.; PTAKOVA, M.; BEDNAR, P.; RICHTERA, L.; KUCERA, L. What about dinner? Chemical and microresidue analysis reveals the function of late neolithic ceramic pans. Molecules, 2021, vol. 26. p. 1-16. ISSN 1420-3049. IF 4.411
BYTESNIKOVA, Z.; ADAM, V.; RICHTERA, L. Graphene oxide as a novel tool for mycotoxin removal. Food Control, 2021, vol. 121. p. 1-9. ISSN 0956-7135. IF 5.548
KUCERA, L.; ROZSYPAL, J.; BEDNAR, P.; BREZINA, M.; KALINA, L.; BEZDICKA, P.; MASLAN, M.; RICHTERA, L. "Gold corrosion": An alternative source of red stains on gold coins. Materialia, 2021, vol. 15. p. 1-8. ISSN 2589-1529. IF 0.000
MITREVSKA, K.; MILOSAVLJEVIC, V.; GAGIC, M.; RICHTERA, L.; ADAM, V. 2D transition metal dichalcogenide nanomaterial-based miRNA biosensors. Appl. Mater. Today, 2021, vol. 23. p. 1-23. ISSN 2352-9407. IF 10.041
MUKHERJEE, S.; BOUTANT, E.; REAL, E.; MELY, Y.; ANTON, H. Imaging viral infection by fluorescence microscopy: Focus on HIV-1 early stage. Viruses-Basel, 2021, vol. 13. p. 1-21. ISSN 1999-4915. IF 5.048
NADTOCHAEVA, P.; BADINOVA, E.; RICHTERA, L.; VOBĚRKOVÁ, S. Crude laccase-based biosensor for the detection of catechin. Biotechnology & Biotechnological Equipment, 2021, vol. 35. ISSN 1310-2818. IF 1.452
PECENKA, J.; BYTESNIKOVA, Z.; KISS, M.; PENAZOVA, E.; BARANEK, M.; EICHMEIER, A.; TEKIELSKA, D.; RICHTERA, L.; POKLUDA, R.; ADAM, V. Silver nanoparticles eliminate Xanthomonas campestris pv. campestris in cabbage seeds more efficiently than hot water treatment. Mater. Today Commun., 2021, vol. 27. p. 1-8. ISSN 2352-4928. IF 3.383
STEPANKOVA, H.; SWIATKOWSKI, M.; KRUSZYNSKI, R., .; SVEC, P.; MICHALKOVA, H.; SMOLIKOVA, V.; RIDOSKOVA, A.; SPLICHAL, Z.; MICHALEK, P.; RICHTERA, L.; KOPEL, P.; ADAM, V.; HEGER, Z.; REX, S. The anti-proliferative activity of coordination compound-based ZnO nanoparticles as a promising agent against triple negative breast cancer cells. Int. J. Nanomed., 2021, vol. 2021. p. 4431-4449. ISSN 1178-2013. IF 6.400
SYS, M.; MUKHERJEE, A.; JASHARI, G.; ADAM, V.; ASHRAFI, A.; NOVAK, M.; RICHTERA, L. Bis(2,2′-bipyridil)Copper(II) Chloride Complex: Tyrosinase Biomimetic Catalyst or Redox Mediator? Materials, 2021, vol. 14. p. 1-18. ISSN 1996-1944. IF 3.623
VANOVA, V.; MITREVSKA, K.; MILOSAVLJEVIC, V.; HYNEK, D.; RICHTERA, L.; ADAM, V. Peptide-based electrochemical biosensors utilized for protein detection. Biosens. Bioelectron., 2021, vol. 180. p. 1-19. ISSN 0956-5663. IF 10.618
Durovic, A.; Stojanovic, Z.; Kravic, S.; Kos, J.; Richtera, L.; Electrochemical Determination of Vitamin D3 in Pharmaceutical Products by Using Boron Doped Diamond Electrode . Electroanalysis 2019, in press, . DOI: 10.1002/elan.201900532 .