Research group for biomarkers
The resear group is focused on searching of novel biomarkers and developement of novel sensors and biosensors using nanomaterials employing optical and electrochemical methods. Acquired knowledges are than, publiched, transferred to the market, or applied durich service research. This al lis avalid in area of bioanalysis, area of designing of prototypes of bioanalytical devices or novel approaches.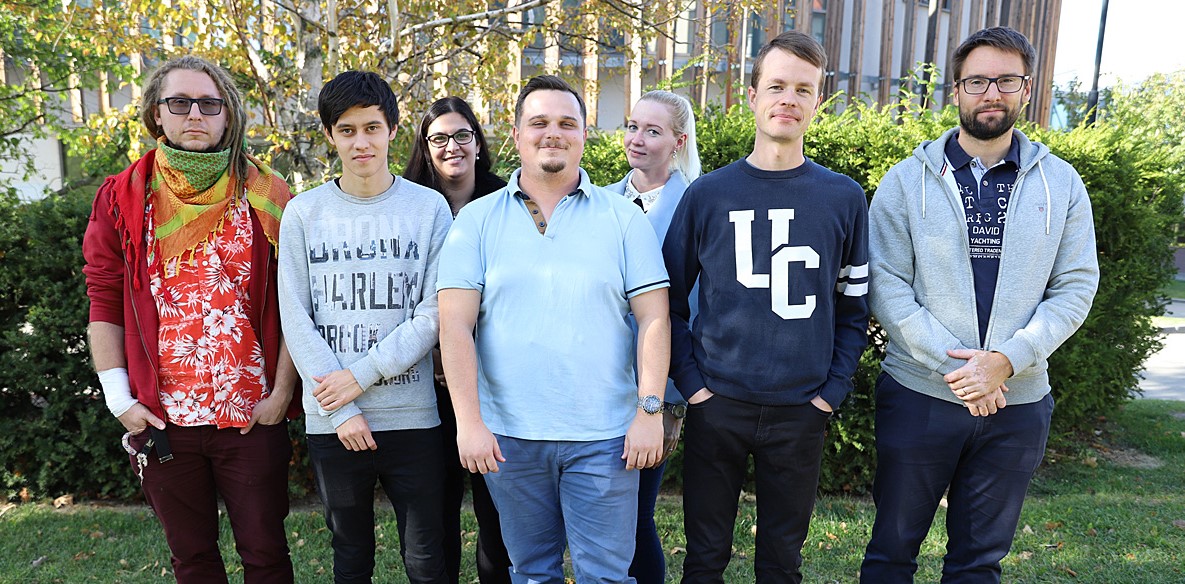 ---
doc. RNDr. Ondřej Zítka, Ph.D.
Head – Research group for biomarkers
Academic staff – Associate Professor
---
Phone: +420 545 133 285
Address: ÚCB AF, Zemědělská 1, 61300 Brno – Building D
Office: BA02N2004
Email:
Researcher ID: E-1107-2012
ORCID: 0000-0001-7607-5058
Scopus ID: 14012648400
---
doc. RNDr. Ondřej Zítka, Ph.D.
Ing. Zuzana Lacková, Ph.D.
Mgr. Natalia Cernei, Ph.D.
Ing. Jan Zítka
Ing. Jan Šílený
Bc. Jan Sýkora
Bc. Martin Rytíř
Lukáš Vrtěl
Ing. Jiří Kudr, Ph.D.
Ing. Lada Šmídová
Mgr. Jiří Pospíšil
Ing. Martin Lučaj
Ing. Petra Vopařilová
Ing. Monika Štěpánová
Bc. Žaneta Koudelková
Mgr. Roman Guráň, Ph.D.
Ing. Silvia Vaculčiaková
Ing. Jan Příborský
Ing. Tomáš Do
Ing. Žaneta Buchtová (mateřská dovolená)
Flow systems with electrochemical detection for the analysis of biomolecules
Spatial mapping of proteins in animal tissue using MALDI MSI
Electrochemical biosensors using nanotechnology for the analysis of biomolecules
TAČR TREND: Research and development of innovative solutions in the laboratory diagnostics (FW01010202)

GAČR: Portable Point-of-Care Platform Based on Lock-in Amplifier

MVČR: An ultrafast portable system to detect SARS-CoV-2. 01/2021 – 12/2022
Publications
PERIS-DIAZ, M. D.; GURAN, R.; DOMENE, C.; DE LOS RIOS, V.; ZITKA, O.; ADAM, V.; KREZEL, A. An Integrated Mass Spectrometry and Molecular Dynamics Simulations Approach Reveals the Spatial Organization Impact of Metal-Binding Sites on the Stability of Metal-Depleted Metallothionein-2 Species. J Am Chem Soc., 2021, vol. 143 p. 16486-16501. ISSN 1520-5126. IF 15.419
BEZDEKOVA, A.; VODOVA, M.; DOLEZELIKOVA, K.; ZITKA, J.; SMERKOVA, K.; ZITKA, O.; ADAM, V.; VACULOVICOVA, M. Detection of microbial contamination based on uracil-selective synthetic receptors. Talanta, 2021, vol. 224. p. 1-7. ISSN 0039-9140. IF 6.057
ZHANG, H.; PAJER, P.; KUDR, J.; ZITKA, O.; NEUZIL, P. Design considerations for point-of-need devices based on nucleic acid amplification for COVID-19 diagnostics and beyond. Biotechniques, 2021, vol. 71. p. 1-5. ISSN 0736-6205. clanek IF 1.993
KUDR, J.; MICHALEK, P.; ADAM, V.; ZITKA, O. COVID-19: A challenge for electrochemical biosensors. TRAC-Trends Anal. Chem., 2021, vol. 136. p. 1-9. ISSN 0165-9936. IF 12.296
PERIS-DIAZ, M. D.; GURAN, R.; ZITKA, O.; ADAM, V.; KREZEL, A. Mass spectrometry-based structural analysis of cysteine-rich metal-binding sites in proteins with MetaOdysseus R software. J. Proteome Res., 2021, vol. 20. p. 776-785. ISSN 1535-3893. IF 4.466