The future belongs to nanotechnologies
Nanotechnology is one of the great challenges facing Czech industry. Czech scientists and companies are already playing a key role in this area, with some even saying that the Czech Republic has a great chance to offer the world something in this area and at the same time transform today's industry into something other than cars, which form the backbone of the domestic economy.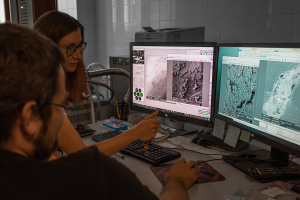 Mendel University in Brno, which focuses on nanotechnologies in agriculture, which are not very widespread yet, does not want to be left out either. "The problem is the ambiguity regarding their potential toxicity and especially the financial cost of their production. That is why nanotechnologies in this area are still waiting in full view for the imaginary queue,"  said Dalibor Húska from the Department of Chemistry and Biochemistry of the Faculty of Agrisciences.
According to him, nanotechnologies will find wide use in the future as new pesticides, which will target specifically and at many times lower concentrations than before. "The same goes for nanofertilizers. Nanoparticles can also be used in many methodological processes, such as sensors for diseases, pathogens and the overall health of not only plants but also livestock,"  says Dalibor Húska.
He cited biotechnology as another example, specifically nanoparticles as nucleic acid transporters for genetic engineering. "They will be of great importance in the food industry again as sensors but also as packaging materiál,"  added scientist, adding that the nanotechnology world is closest to mass use, especially for fertilizers and pesticides. He mentioned Singapore, China and the USA among the top countries that have already jumped on nanotechnology.
Researchers from the Department of Chemistry and Biochemistry of the Faculty of Agrisciences have already had their first major results in the field. The Laboratory of Synthesis and Characterization of Nanomaterials under the leadership of Zuzana Bytešníková has already developed a special spray that will protect plants against pathogenic bacteria. Products of this type are practically not available on the market, and if they already are, their effectiveness is many times lower. The university has already filed a patent application for spraying, and a commercial partner is also in negotiations to help put the know-how into practice. The spray is a mixture of silver and copper nanoparticles and graphene oxide. The composite prepared in this way protects the plants against harmful bacteria. The research of chemists from Mendel University in Brno lasted ten years.
Current issues in the field of nanotechnology will be presented by researchers at the online seminar Nanoparticles in Agriculture, which will take place on Friday, November 26, 2021 from 10:00.
More information can be found here: Invitation to the online lecture Nanoparticles in Agriculture – Department of Chemistry and Biochemistry
Contact for more info:
Ing. Dalibor Húska, Ph.D., ; +420 724 193 931