Our Department sponsors scholarships from the Federation of European Biochemical Societies
The Federation of European Biochemical Societies (FEBS) is one of the largest European organizations in support of molecular biological science. Among other things, it also sets up a financial support program for young researchers and students from the member states, who are able to stay abroad for scientific cooperation or to use techniques and methodologies that are not available at their home workplace. Obtaining this prestigious scholarship is very difficult and we are glad that we were able to provide our laboratories and expertise for two months to the Spanish Ph.D. student Marina Serrano. Read a short interview about her work.
What you had to do to be awarded the FEBS Summer Fellowship 2021 scholarship?
I applied for the prestigious FEBS fellowship in May 2021 with a simple project and a very clear objective, which was to learn the CAM Assay and use this technique to evaluate the role of a specific protein in liver tumours.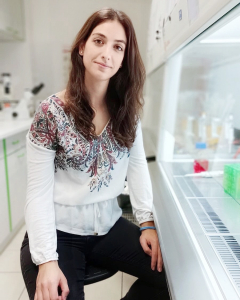 Why did you refuse your EMBO scholarship and pick the FEBS?
First, I was awarded the FEBS fellowship in June 2021 so I accepted. After that, I was awarded EMBO scholarship in July 2021. Hence, I had to refuse the last one because it was impossible to have both of them simultaneously. It was a pity; I wish I could have had both and extended my time here.
What do you do in our lab?
What I am doing here with Dr. Miguel Merlos is to evaluate if the upregulation of the NEDP1 protein levels in liver cancer cell lines has an impact on the capability of the tumour to develop and migrate using CAM assay, as well as describe if this fact produces more sensitivity to chemotherapy. This result can be a new biomarker that can help to know how aggressive the tumour is and also decide if the patient is going to be a good responder for the treatment.
Where exactly do you study back in Spain and what exactly you do?
I am a PhD student in Liver diseases Lab from CIC BioGUNE (Bilbao, Spain) associated with Basque Country University, under the direction of Dra Malu Martínez-Chantar. In our lab, we study liver diseases; especially I was focused on non-alcoholic fatty acid liver disease and liver cancer in order to discover new therapies based on the modulation of the proteome targeting post-translational modifications.
What do you like about our Department? What is different here and in your lab in Spain?
The most I liked in the department is the multidisciplinary team that help each other and collaborate between them. However, there are not many differences between Spain and The Czech Republic in scientific matters.
What would you like to do in the future and where?
After finishing my PhD, I would like to apply for a post-doctoral position and continue the scientific career abroad.
What led you to science and when did you know you wanted to do just that?
When I was in high school, I was fascinated with biology and biochemistry. I always wanted to know more and more about this topic. So, I decided to be a scientist.
Is it hard to be a woman in the scientific world?
At this moment I haven't had any problem being a woman in science. Nowadays, the percentage of women is growing in this area and most of them are or will arrive at high responsibility jobs in a few years (or at least it is what I hope).